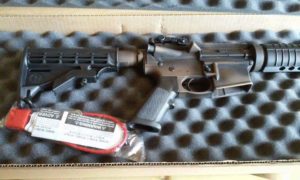 Next up is our 2016 4th Quarter raffle …
We are going to raffle off a Smith & Wesson AR15 Sport II in a .223 Caliber
CERAKOTED by our friends at Pro Powder Coating in Grand Junction
We are only selling 250 tickets at $20.00 each between now and December 19, 2016
We will draw the winner on December 19, 2016.
We'll make arrangements for a local pick-up here in Grand Junction
Winner will have to pass a standard back-ground check
If it needs to be shipped, it will be sent to a local gun dealer or other licensed agent of the winners choosing
All associated costs will be the responsibility of the winner.
Good Luck!